When dealing with office removals, there are some important things to consider so as to not disrupt your business.
Maybe an evening move would work better for you? How about a Saturday or a Sunday move? Whatever you choose, the way to go is calling professional help. When you hire a removal company, the day and time are up to you — and it's usually a lot cheaper than people think.
Van Quotes have companies that will come in and assess your office removals to give you a quote. Be it a small operation up a few flights of stairs with no lift or a large operation in an office block, we have professionals standing by to offer you the best value around.
They have trolleys and ramps so moving that filing cabinet will be easy. Most companies will be able to disassemble desks and reassemble them on location. You can ask for as many helpers as you want or if the move is small, perhaps you can help yourself.
We love the challenges with every unique move, delivering the right solution for you. We have over 15 years of expertise to help you relocate to the new work address.Our network of over 700+ Man with a Van drivers across all counties can help you relocate from any city or town, whether across Dublin or elsewhere.
Most of our Office removals are with regular clients, They appreciate our services and professionalism to get each job done with 100% satisfaction.
We would like to understand your requirements well, Just click on Free quotes and provide us a few details and we will get back to you.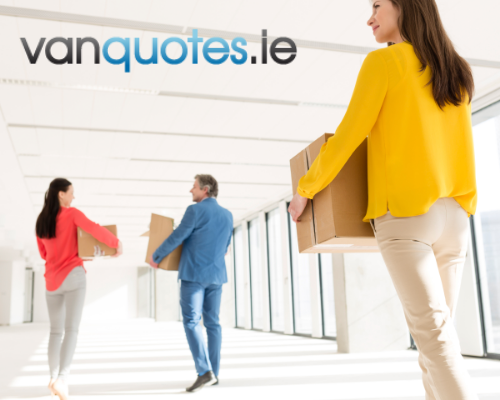 You can check if there are any companies local to you in our drivers directory. As a comparison website, we can get you independent, local removal companies to tender for your needs.
But before you move, you should check out our hints and tips page because there might be things you haven't considered. For example, there is no point in moving unwanted furniture so why not declutter by selling them at one of Ireland's many auction houses? There is also the option of selling it yourself online at sites such as gumtree and adverts.ie.
If there is anything that can't be sold and is waste, we can still help. Check out our recycling service or our directory to find centres close to you.
Do you think you are ready and would like to get some quotes for the move? Then click on the button above and get companies to contact you with their best price. If you have any questions, please check out our FAQ section or call us at 01 5545665 for advice.